Client
Lingerie Outlet Store
What We Did
UX/UI Design. Magento 2. Searchanise Integration. Mix n' Match. Integrate User-Generated Content. Integrate Wordpress w/ Shoppable Content.
Awards
Northern Digital Awards 2019
Best Ecommerce Website (Shortlisted)
Creating a beautiful and functional online store
With a wealth of Magento knowledge and ecommerce expertise under our belt, the chance to further develop these skills and show off what we could do was an exciting challenge for us. Enter Lingerie Outlet Store, the largest lingerie retailer on eBay UK, who tasked us to create a harder working direct to consumer channel.
Their existing site was netting sales but as they wanted to scale, it was important this channel was going to be as lucrative as possible so we worked with LOS to replatform the site from BigCommerce over to Magento 2, with the sole focus to improve usability, functionality and conversion.
Visit Website
Unleashing the power of Magento 2
By far the biggest challenge of this project was replatforming the new Lingerie Outlet Store from BigCommerce onto Magento 2. We stuck by this decision as we knew how important it was and how rewarding it would be to introduce a whole host of new functionality. With lightning-fast page speeds targets, improved visual merchandising and new UX-focused shopping features, we couldn't wait to get started.
Our design team leant on their impeccable knowledge of the women's FMCG fashion industry and completely reinvented the look of the site. The result? A sleek, visually stunning storefront that entices a wide range of customers and puts Lingerie Outlet Store on a level playing field with their biggest competitors.
Reducing bounce rate, increasing conversions
We knew that conversion was going to be the focal point of our work with Lingerie Outlet Store. To ensure that the retailer could retain their loyal customer base and increase the potential LTV (life time value), we introduced persistent promotional tools that encouraged repeat users to consider one of the offers before they leave. This was just one technique that we knew would drive more sales.
Using one-off discount codes and snappy messages, we were confident that these stylish little features would reduce bounce rate and see those conversions soar even higher, early stage results are in and it's clear we've smashed their initial conversion targets.
Visit Website
Search by size
Who doesn't love a unique feature when shopping online? Visitors to the Lingerie Outlet Store website will be greeted with an easy-to-use-and-find search bar above the main nav. But they'll also be able to search purely by size, allowing shoppers to only view products available in their individual bra size! Handy, right?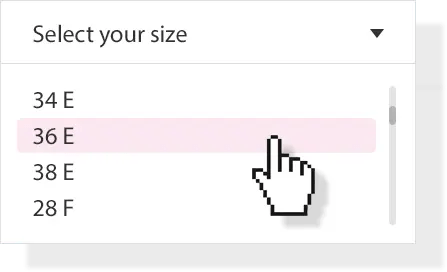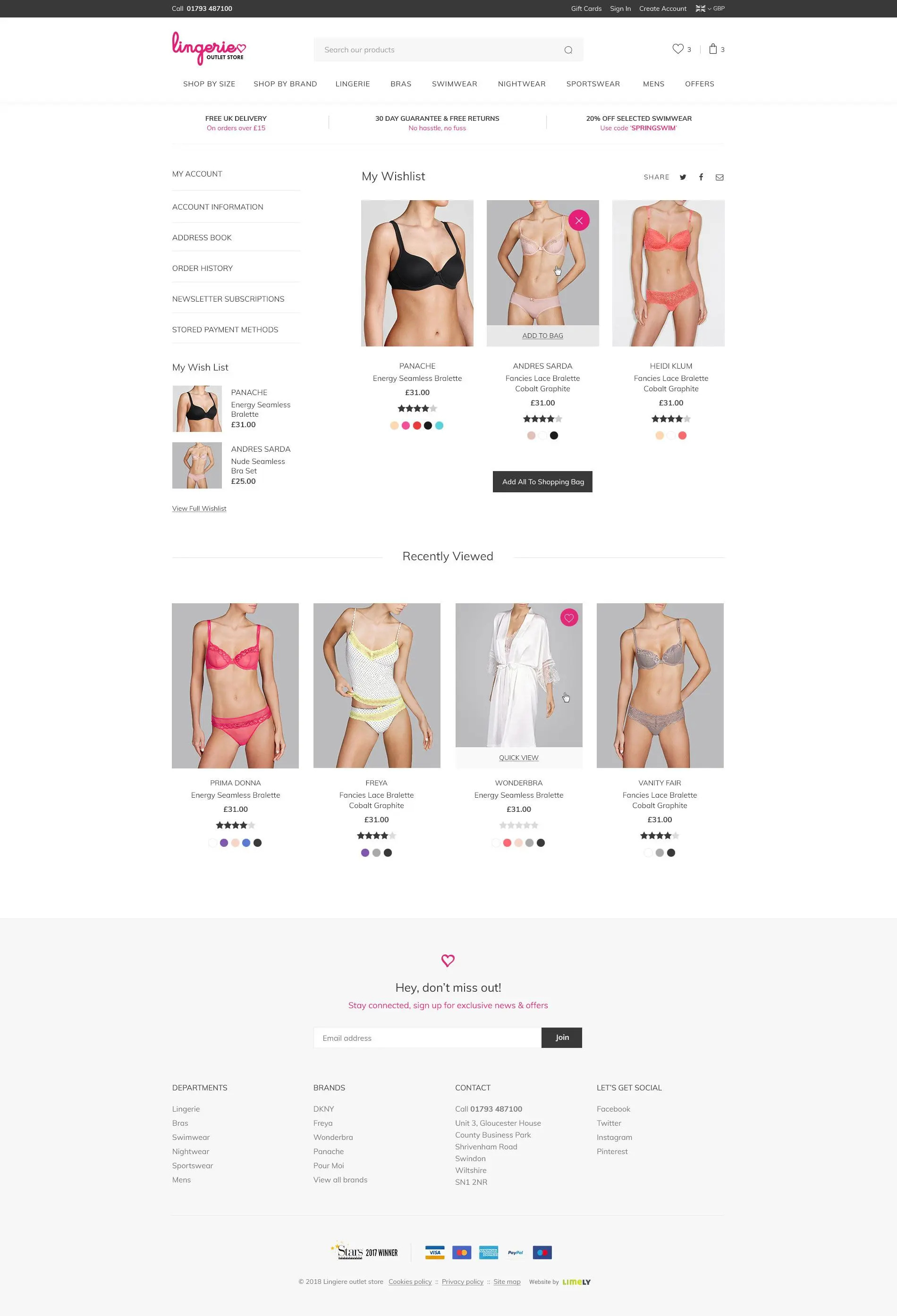 Wait, there's more…gift cards, wishlists and size guides
That's not all. Lingerie Outlet Store's new website really is packed to the rafters with impressive and unique features. Customers will be able to purchase gift cards online along with their own order – perfect for a loved one's birthday or special occasion!
On top of that, we've integrated a powerful wishlists feature to keep shoppers interested and coming back for more. This was a no-brainer – a good fashion-based retail site should be expected to offer a wishlist feature as standard. And if that wasn't enough, we've designed a funky size guides section to inform users and create a sense of trust and loyalty to Lingerie Outlet Store. You can't say we don't go all out…