Three cheers we've made it to seven years!! 
That's right, your favourite web design agency is officially celebrating seven years of designing and building show-stopping websites for brilliant clients, across the UK. Whether you've been following our journey from day one, back in November 2015 or have recently stumbled upon our website wizardry, we're so pleased to have you here, celebrating with us!
Back in 2015, a team of four web experts envisioned launching an agency that puts people first, creates exceptional websites for fantastic clients and most importantly, has fun whilst doing so. Skip to 2022 and our four directors Adam, Gavin, Graham and Niko have achieved just that and so much more! Now a strong team of nine, we can't wait to see what the future holds for the agency!
What happened in 2022?
2022 has been full of all sorts of exciting things from new team members joining the agency to award nights and of course, many website designs, builds, content writing and lots of SEO.
Here's what director Gavin, had to say;
"2022 has been a positive year, full of change. After two years of lockdowns and COVID restrictions, it has been brilliant to collaborate with colleagues and clients in person. So far, we're having an extremely successful 2022 and we look forward to continuing our mission in the years to come." – Gavin Rogers
If we take a look at the stats, so far in 2022 Team Limely has tracked a whopping 11,870 hours of hard work for our fantastic clients. And with those numbers set to rise by the end of the year… it's clear that there's no stopping us
New Clients & Websites
Whether we've been designing ecommerce websites for tile retailers, inspiration areas for leading bed suppliers, restaurant websites for delicious eateries or brochure websites for accountancy firms, it's safe to say we've had a busy 10 months of 2022 so far!
Putting our digital skills to the test is what we live for at Limely. We absolutely love working on a wide range of sites, across a range of industries. Our creative approach and extensive experience leads to outstanding outcomes, every time. We couldn't be more proud of the team for rising to every challenge and always putting our clients' needs first.
We managed to ask director and designer Adam, to share his thoughts on the 7th year of Limely;
"This year, we've been fully focused on building our ecommerce clients and in turn, have gained many exciting new projects that we've absolutely loved working on. We can't wait to see what our 8th year brings!" – Adam Forshaw, Director
As we said, there have been a lot of changes this year – One of the biggest changes we faced was saying goodbye to our beloved developer Robbie, who flew the nest to take on a brand new developing challenge! But, it's safe to say we were just as happy to give a warm welcome to new content marketing exec, Jess!
Work Hard, Play Hard!
Amongst all those hours of hard work, we've also managed to have rather a lot of fun in between! From our trip to Leeds for the Northern Digital Awards to our day trip to Liverpool playing crazy golf and of course, our upcoming Limely 7th Birthday Party, we've ensured that Team Limely have had lots of laughs along the way!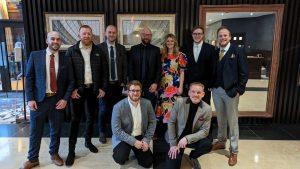 Coming Soon…
Naturally, we've got lots of exciting projects and websites coming up over the next year! Whether it's designing brand new ecommerce websites for fashion brands, transforming websites for estate agents or developing SEO strategies, there's lots in store for the team.
But for now, it's time to celebrate! Cheers to seven years.