Earlier this week, Limely was invited to an Employer's Q&A session. Keep reading to find out what happened!
On Tuesday, we were kindly invited by the career guys over at the uni to attend a session – a part of their new ASK scheme (it stands for Ask, Shape, Kickstart).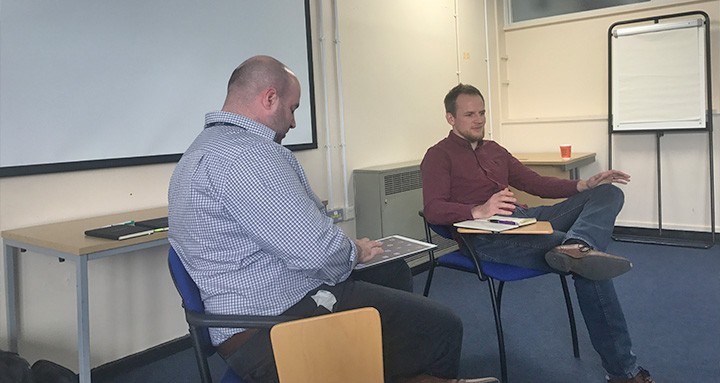 What exactly was it?
Well, the ASK scheme intends to boost employability and career prospects. Basically, students get the chance to interact with employers from an industry that they're interested in. As a web design agency, we thought we'd have a decent amount of knowledge to help out the art and design students. The talk started at 1.30 and we had a 2-hour slot. Of course, this meant there was plenty of time for us to get stuck in! Our designer Adam and writer Emma attended the session.
Limely and the design industry
Adam began by introducing himself and how he came to be a designer, and ultimately start up a new business. He also described Limely's ethics and mission as a company. We were asked to discuss the Google-style ethos of workplaces in our industry and how this boosts productivity. We were more than happy to discuss that, of course! Here at Limely, we're all about keeping a relaxed working environment so that creativity can flow (just look through our Instagram feed – you'll see what we mean!).
Creating a portfolio and getting a job
Students were keen to know the ins and outs of submitting the perfect portfolio. Adam gave them some sneaky tips on how to really stand out – including making your portfolio or CV personal to the company you're applying to. We discussed the importance of extra-curricular activities on your CV, whether related to the industry or not. Remember, what you do outside of your work really shows off your personality! We also touched on getting over a creative block. It's tough – everyone deals with it differently – but Adam's advice was to take regular breaks and avoid overloading on inspiration.
Starting up a company
One student asked a great question: "What was the hardest thing about setting up a new company?" Adam had plenty of answers for this one, but the stand-out one was 'making the leap'. You'll never know if you never try! We also touched on building up a client base and networking with different people in the industry.
Overall, the Q&A session was a success. We hope we managed to give the students something to think about. Whether they decide to give it a go in web design or not is up to them!